Kitchens are undeniably the heart of today's homes so, understandably, you want your kitchen to look its best. Even if you aren't in the market for a total re-do, one or two trendy updates will bring your kitchen into the 21st century. We are going to bring you to the world of kitchen design trends and to show you what to expect for season 2016 – 2017.
MIXING
No more matchy-matchy. The coming year will see lots of mixing of textures, sizes, shapes, and materials. Colors will remain mostly neutral but interesting design comes in many other packages.
WOOD
Wood is still hot! And the choices only grow with each passing year. 2016 will be a big year for taking reclaimed wood-looks and incorporating them with contemporary elements.
QUARTZ
Everyone is talking about quartz. And they should, it's an incredible countertop surface that has it all. It is an engineered stone with 93% quartz, but that other 7% allows for colors and patterns that are difficult to get or are expensive.
COLORS
The color that will get the most traction in 2016 is grey. It goes with everything and comes in hundreds of shades and tones. Warm, cool, dark, light—you name it and it's yours. Black and white schemes will also continue to be hot. Pops of accent color will be the way the kitchen gets its color.
FUNCTIONALITY
2016 tosses conventionality to the wind in favor of functionality. Designers have held on to traditional kitchen elements for many years, but the new year will see some innovation in kitchen functionality.
LIGHTING
It's an art to light the kitchen these days. This year, you'll see more attention given to feature lighting, like what you'd see over the island.
TRANSITIONAL
Transitional design takes bits of the classic and carefully mixes them with bits of contemporary. It's the perfect middle-ground for people who want to do something different but not too different.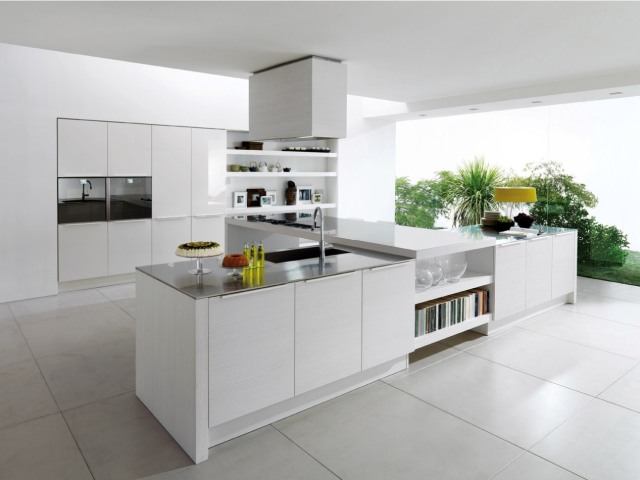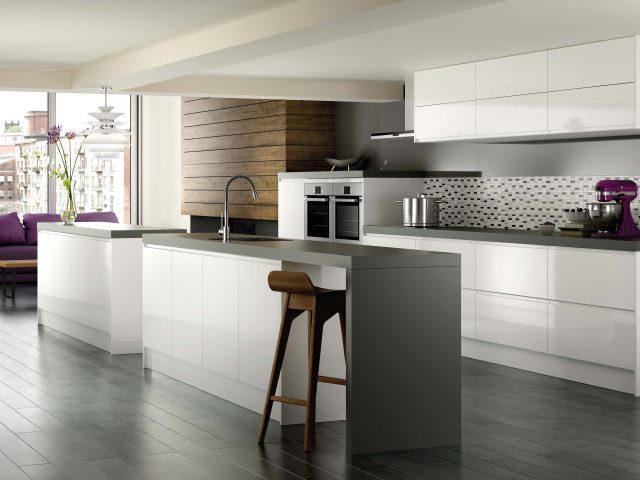 Whether you know exactly what you want or you're just beginning, 2016's timeless trends will help you get and stay on track.
1. Open Plan
For the social butterflies of the world, an open plan kitchen is ideal. It centralizes the kitchen and gives you the space to entertain guests while you're cooking. From breakfast bars to islands, an open floor plan gives you the flexibility in terms of space and means you won't miss out on any part of the night.
2. High Gloss
A super glossy, futuristic plastic will look striking against a dark or neutral palette. From cherry reds to limes, pure whites to deep berry tones, the sky is your limit when it comes to choice, just make sure to keep on top of the cleaning to avoid messy fingerprints.
3. Contemporary Country
Less twee than previous years, the new country kitchen is a modern day feast for any vintage or traditional kitchen lovers. Pair soft pastels like duck egg blue, mints or pale lemons with darker, richer woods like mahogany or walnut for a contemporary contrast.
4. Brushed Steel
Still very much sought after, metallic kitchens aren't running out of steam any time soon. To bring this trend up to date, opt for brushed steel as opposed to the shinier versions of late. Offset the shine with a matte or block dark colour to really show off the finish.
5. Super Storage
Utilising the space in your kitchen is something that many people struggle with, but next season there will be many appliances and kitchens that are built with space in mind. From drawers opening at the touch, to hidden cupboards, multi use appliances and more, cramming everything into 3 tiny cupboards is a thing of the past!